Hyundai Santa Fe manuals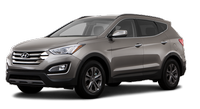 There was a time when the reasons to pick a Hyundai Santa Fe as your crossover SUV were few. It had a low price and a lot of standard features, but that original first-generation model failed to perform to the level of its competition in most other areas.Thankfully, the second-generation Hyundai Santa Fe presented a big step up in terms of styling and performance. Highlighted by its contemporary appearance and upscale and roomy interior design, this model made a respectable choice for a used midsize crossover. Now the latest, third-generation Santa Fe raises the bar even further, with its truly impressive performance, attractive styling, high-quality cabin and generous standard features roster.
Manuals for all generetions of Hyundai Santa Fe car
VibeCity
.
Situs Slot Gacor
.
How To Make Seagrass In Minecraft